9 Ways To Earn CashCoins!
30/06/2016
Here you will find our Top 9 ways to earn in no particular order! From shopping online to giving opinions plus the easiest of them all... Clicking! This is for old members that might find something new, and for all new members who aren´t sure what is possible.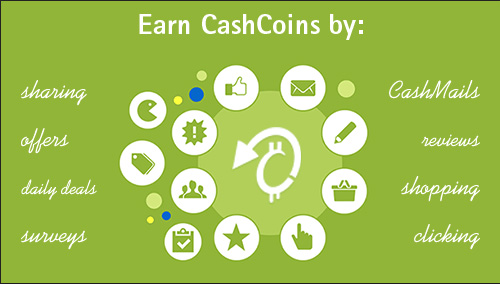 Online Shopping 
1. Shopping with Cashback Rewards
Do all your daily online shopping in one place and make money back in 3 easy steps:
SEARCH A STORE BY USING THE SEARCH BOX 
MAKE A PURCHASE
RECEIVE CASHCOINS
Clicking 
2. Share Deals on Facebook and Twitter
Share with your friends via Facebook or Twitter and earn with one click. You will receive 0.01 CashCoin for each share through your Facebook or Twitter account. You can only share one offer per day, so visit this page regularly!
3. Banner clicks
Find a new banner every day and get compensated for each click. Log in daily to
click a new banner
and earn more money!
4. Cashmails
You can earn money by reading e-mails. Have you missed an e-mail? Or would you just like to read a paid e-mail? Simply click, read, earn!
5. Invite Friends
Introduce your family and friends with the best site to earn money! For each registered friend you will receive 7.50 CashCoins as a Referral Bonus as soon as they have saved 15 CashCoins (excluding sign-up bonus).
Opinions and Information
6. Complete Profile
You can earn CashCoins by completing your profile details. Upon completion you will earn 0.15 CashCoins. When you answer the additional questions you will earn another 0.15 CashCoins!
7. Write a testimonial
Share your experiences and opinion about our website with us to receive 0.50 CashCoins as a reward!
8. Write a testimonial
Rate a store and share your experiences about the offer, the quality and service with other members. Write a review and receive 0.15 CashCoins! 
Competition
9. Exclusive Member Competition, Lottery and Jackpot
Win a 250 CashCoins! The only thing you need to do is to click on 'submit' in order to join the contest.
More Exclusive Competitions such as Lotteries, Jackpots and Games are coming soon!
Comment below: What is your favourite way of earning extra on our site?


The best Cashback offers from this moment:

10.00% CashCoins
Absorb Health
Absorb Health is a dietary supplement and natural skin care company.
Go to offer

2.50% CashCoins
Gold Shoes Plus
GolfShoesPlus.com is the online store for Golf Shoe International.
Go to offer

1.75% CashCoins
Adventure Tours Australia
Adventure Tours Australia has tours & package travel deals for active budget travellers. Turn your holiday into an adventure with tours all over Australia.
Go to offer
By Alan Plke on 07-08-2017 at 12:58:22
I am just joined have not had the time to form any idea as too the detail as yet still learning.
By Daniel Mace on 03-06-2017 at 05:05:24
I am a new user pf the app and I am very happy with the experience and the best way for me to do with it. I will have a great time at the same time as the most important part of my own personal and professional services.
By Justine Campbell on 26-04-2017 at 19:05:51
I am new to this app but so far my favorite way of earning is reading emails and competitions
By Paul Morse on 12-10-2016 at 13:13:10
I think it will be lottery and jackpot
By Tanya Gibbons on 02-10-2016 at 00:56:28
Simply opening emails daily and clicking on the banner, boom 2 seconds later and 1 cent ritcher with each one :)
By D Leaman on 23-09-2016 at 21:35:47
Its is a good way to earn money .
: CashbackEarners.com.au Team
Beste Wilfred, De prijzen zijn gister met de post verstuurd! Zodoende zullen jouw prijzen zo snel mogelijk bij je thuis afgeleverd worden. Met vriendelijke groet, Team ShopBuddies
By Mikayla Brown on 22-09-2016 at 22:43:43
Awesome app
By Lisa-nicole Johnson on 07-09-2016 at 06:24:08
Surveys and games