Cashback and discounts at Woolworths
In this shop you will receive Cashback + extra discounts:
1 deals
Order Online with discount at Woolworths
Let us do the shopping for you. When you shop online with Woolworths, our Pickers will hand pick your shopping just the way you like it. Just order online and we'll either deliver it to your door or have it ready for you to pick up in store. The easy way to try online shopping without having to pay extra is simply buy your first groceries and receive free delivery. Easy to get started, FREE Click&Collect, Track My Order & Next day delivery. Start Shopping Online now!
Discounts and Discount Codes for Woolworths
up to 1.00 CashCoins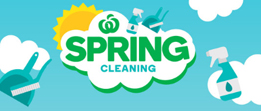 Get 1/2 price on spring cleaning products at Woolworths
Valid until: 27-08-2019
Go to offer
Blog Woolworths
It's almost here! If you don't know what we're talking about, we mean Easter! The time for eating copious amounts of...

Football. The snacks, atmosphere and team rivalry. Who doesn't love it? This Sunday, the AFL for Women will finally come to a...

It's Mardi Gras! Mardi what? The week of Mardi Gras brings with it a celebration of equality and unity within the LGBTQI...
Woolworths

Reviews
Kerry Kearvell | 09/02/19 07:23:41 | Store rating :

I love Woolie's it feels like I'm visiting family, always say hello n greet u with a smile. There set up is awesome to move through, isle are large enough for cpl trollies side by side without touching or banging into one an other. They have great specials to
Steve Gaston | 28/11/18 09:20:21 | Store rating :

When I shop at Woolworths, my customer service is always on solid ground. Treatment has always had results in the aspects of respect, helpfulness and positive behaviour/attitudes towards people including me. Never shop normally on-line. Heard that's easy and simple with little or no mistakes.
Krystal Cranston | 20/11/18 01:16:24 | Store rating :

i love woolworths as they have more variety fresh food they have lots more workers not just reling on the self serve checkouts the deli has a huge variety and online shopping is very organised glad woolworths is better than coles