Let's talk about Winter food
05/07/2019
Winter. There's not much to say, besides the fact that booze gets switched out for warmer drinks. We mean there's nothing to say you can't have a hot chocolate with a cheeky bit of something to give it the kick you really need, but is really the same? Drinks aside, let's talk food! Nothing makes Winter go by faster than comfort food. So sit back, relax and read our tips on how to maximise the most of this cold weather as a foodie!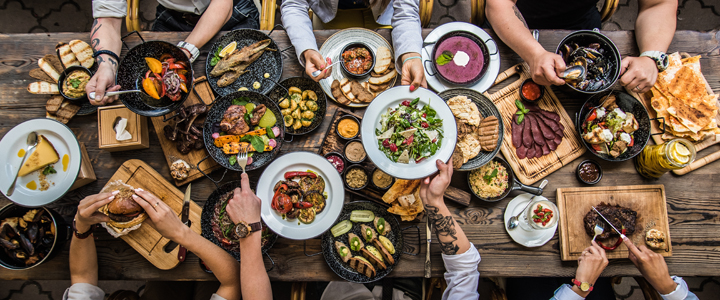 What screams comfort food to you? A big bowl of soupy ramen or something a bit more sophisticated? If you are unsure on what it is your craving, don't worry! Marley Spoon has got you on this one! All you have to do is select your recipe and the ingredients will be delivered straight to your door. The only thing left for you to do is follow the recipe card, and cook up a storm. Before you get ordering, remember you can earn up to 10.00% CashCoins.
Feeling lazy? Does eating an unhealthy microwave meal make you feel a little guilty? Well, what if we told you, it's possible to have a ready made meal that is perfectly balanced AND healthy for you? Yep, it's no longer a thing of the past. Youfoodz has mastered the art of making ready to eat meals healthy. Besides full meals, you can also load up on snacks as well as drinks. Order from their wide selection, and have it delivered to your door, ready to go. Before you run off to order, maximise on savings with up to 5.00% CashCoins!
Too busy to head out and buy ingredients? We understand the busy schedule that comes with working a 9-5 (cue the Dolly Parton song), and the last thing you'd want to do is unnecessarily extend your commute in the colder weather! So, why not give HelloFresh a go? It's all in the name, all you have to do is select how many times you'd like to cook fresh during the week, as well as your desired recipes. HelloFresh will then deliver perfectly portioned ingredients, all ready for you to cook. Say yes to zero wastage, and hello to cooking flexibility! Besides saving on time, you can also earn up to 9.50% CashCoins. Happy days!
 Yes we know, we have given you all the healthy options we can think of. But, sometimes it's okay to stray from the path and indulge a little! Whether it's cheesecake or a cheeky Macca's, Menulog has you covered. Have the power of all your local eateries at your fingertips, ready to satiate any of those cravings! While you wait in the comfort of your own home for your goodies to be delivered, you can also earn up to 3.00% CashCoins. 
Whether you're being a little naughty or looking for something new, we hope that this blog helps you nail all the steps to becoming the ultimate Winter foodie! Go forth and enjoy all things food. 


The best Cashback offers from this moment:

3.00% CashCoins
Menulog
Australia's #1 for Online Takeaway. Offering the ability to ORDER FOOD ONLINE at 5500+ restaurants around Australia. Using a quick and easy SEARCH to help YOU find your favourite restaurant!
Go to offer

9.50 CashCoins
HelloFresh
Our mission is to combine healthy eating with convenience and introduce a more modern, relevant approach to meal planning and shopping.
Go to offer

10.00 CashCoins
Marley Spoon
Marley Spoon is a meal kit delivery service that delivers locally sourced, market-fresh ingredients to your door.
Go to offer